Page 3 of 3 •
1, 2, 3
O.K. I have read all over this topic and trying to figure out is this a car show or for drag racing? So is there a fee to get in with car and not race? Also what time does it start and end each day? Trying to get things arrange to drive over Saturday if weather holds.

74 chevelle malibu

G3GM Member





Street Cred

: 0



Well I have no clue were everyone else was but we drove all the way down from MN got in late on Friday night. Saturday it started to rain and the lady at hotel said all events were cancelled for Saturday at race track. In our neck of the woods we hold shows rain or shine. We spent most of the day in down town Leclair as Saturday was my wife's birthday. That's right what a great wife she went for a road trip for nothing on her birthday. I never saw one more 73-77 GM at all. We left this morning in rain and it poured most of the way home tell we hit Waterloo. The 68 Delmont spun a wheel bearing a mile from home and had not been on the road in 9 years, The 58 Pontiac chieftain lost headlights 10 miles from home. I lost defrost in the rain as Ac froze up and blocked off fan. Still need a different heater control as vacuum section is super touchy and some times does not work. New window seals leaked a bit but all in all we made it and had a great time "ON OUR OWN"
Here is proof we made it there.
]
[/url]
]
[/url]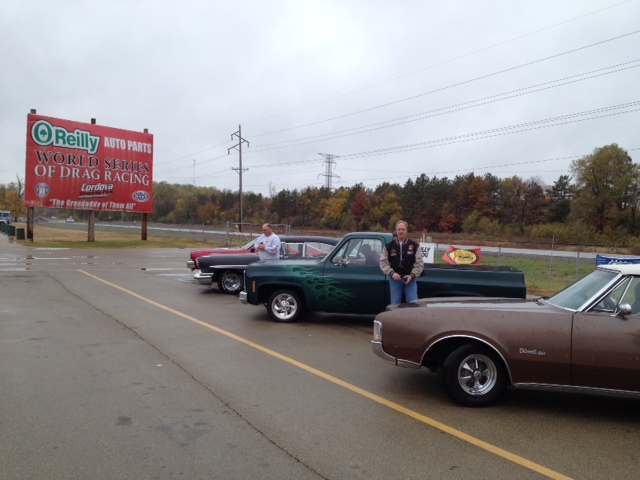 ]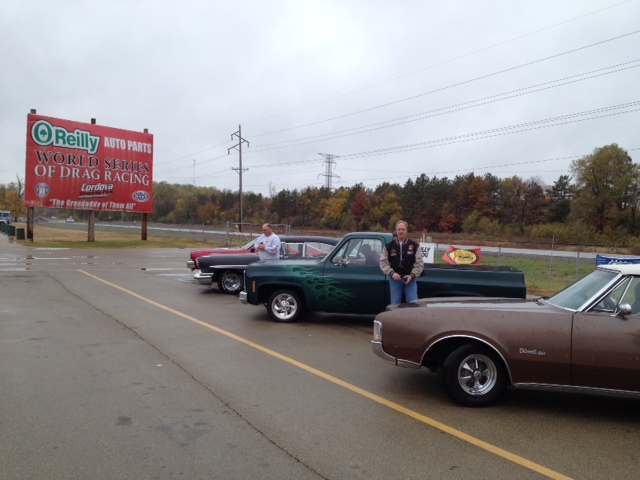 [/url]
Wally

Wallyuph

Donating Member





Street Cred

: 31



Wow...That's a shame. Glad you and the Mrs. had fun.

77mali

Donating Member





Street Cred

: 62



Here is photo bucket of the trip in case you are interested.

http://photobucket.com/Cordovaracetracktrip

Wallyuph

Donating Member





Street Cred

: 31



That's a real shame! This event has been hyped for over a year...not only on this site, but some others catering to Buick and Olds guys. How could they just pull the plug and not have some alternate activities planned for those who would have showed up? Like you said, Wally...can't imagine Back-to-the-Fifties or CarCraft Nat'ls just cancelling everything due to rain. I understand you can't drag race...but, really!

Mcarlo77

Donating Member





Street Cred

: 71



Wally, are you saying no one for the all out call out showed?...No one else here but your group, at all???

jrb75

Donating Member





Street Cred

: 0



We saw no one at all from this site or any body. There were two trailers in the lot at the dragway and a 85 monty in a trailer but that was it. You can see in Photobucket photos of the track and no one was there. Its not a big track more like a small local one but still nothing. If there was any thing Friday night We missed it as we ate at Sneaky Pete's down town and then went to bed as it was after 10:00

Wallyuph

Donating Member





Street Cred

: 31



Ghost Rider wrote:Just found out wife can't get the time off! So I guess we won't becoming after all. Bummed but nothing we can do. Hope you guys have a good time.
You sound as bummed as I was to find out from the wifes boss on Wednesday that she renigged on the time off that she had a signed time off form for. We lost all the reservation deposits. I had a campsite and a trailer for the car as it has bad ball joints but was going to chance the 25 mile ride from the campground to the track. I called her boss and told her she owed us this some how. (didnt go over well with the wife but I was PI___D!) Sorry to here it was rained out. We should do something on our own that nobody can cancelle.

Tom77

Donating Member





Street Cred

: 9



Ghost Rider I here you there.
I guess it could have been worse if you did go and then no one showed like us, but its still better than working.
We made our own fun, found a few leaks to work on in the rain. Put on 850 miles with no major ishues so was happy with that.

Wallyuph

Donating Member





Street Cred

: 31



Was a BIG let down I was looking forward to this from the begining. Thats what made it so tough. I saw the report for rain but like you said time away from work would have been worth it. My car has had water on it before we could have made our own fun.

Tom77

Donating Member





Street Cred

: 9



Page 3 of 3 •
1, 2, 3
Similar topics
---
Permissions in this forum:
You
cannot
reply to topics in this forum